BAFTA Nominated Hair & Make Up Designer, Bethany Swan, is on the front cover of the latest issue of Cine Girl Mag. Bethany is featured in the magazine and talks about her journey, inspirations and advice!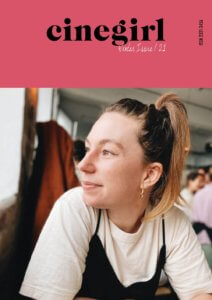 Here's a little excerpt from the article:
"To me the most important thing about working with anyone is to make them feel comfortable in my chair, and in front of the camera.  No matter what your origin is everyone's skin and hair is unique to them and different hair textures & skin types require different products, tools and approaches.  It's not seen one, seen all.  The first thing I like to do when working with new talent is to speak to them ahead of the shoot and ask about their allergies, products they hate and products they like so I can make sure my team and I have familiar items laid out when they arrive.  The person in the chair is always the expert in my mind, so I like to stay humble and open to learning new things using my skills as a framework as opposed to a rulebook.  As a HOD it's also about assembling a team of people that have the right skillsets for the job at hand, whether that be working with black hair, or extra sensitive skin." – Bethany Swan
To read the full interview, please click HERE.
Written by Ashleigh Ashley.
BETHANY SWAN // CV // WEBSITE