Directed by Alex Holmes, Charles Martin, and Felix Thompson, The Letter for the King is an upcoming Netflix drama based on the very popular Dutch book, which was first published in 1962. Originally named De brief voor de Koning, the book has since been published in Catalan, Danish, English, German, Greek, Estonian, French, Indonesian, Italian, Japanese, Polish, Spanish and Czech.
Featuring Hair & Make Up Design by Frances Hounsom, The Letter for the King was shot on location in New Zealand and Prague and stars Islam Boukkaz (After Life), Jack Barton (Grantchester), David Wenham (The Lord of the Rings trilogy, 300, Van Helsing), Ruby Ashbourne Serkis (Sex & Drugs & Rock & Roll) and Jonah Lees (Eric & Ernie).
Set in a fictional medieval world, the story follows Tiuri (Wenham), a teenage squire, who answers a call for help that sends him on a perilous mission across the three kingdoms to deliver a secret letter to the King.
The Letter for the King hits our screens March 20, only on Neflix.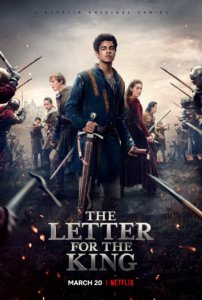 FRANCES HOUNSOM // CV // WEBSITE