Shot by Cinematographer Susie Salavati, White Riot is hitting cinemas THIS WEEK.
The Feature Documentary is set in the late 1970's. Punk is exploding. The country is deeply divided over immigration. The National Front, a far-right and fascist political party, is gaining strength as politicians like Enoch Powell push a xenophobic agenda. Outraged by a racist speech from Eric Clapton, music photographer Red Saunders writes a letter to the music press, calling for rock to be a force against racism. Teaming up with like-minded creatives Roger Huddle, Kate Webb, Syd Shelton and Australian graphic designer Ruth Gregory, the team bands together to create Rock Against Racism (RAR) and a fanzine, Temporary Hoarding.
White Riot focuses on when Temporary Hoarding were speaking directly to the youth and reporting stories and issues that the mainstream British media ignored, giving a voice to the voiceless.
Directed by Rubika Shah, White Riot has received lots of praise with it winning the Grierson Award for Best Documentary at the BFI LFF 2019 awards. It was also nominated at the Edinburgh International Film Festival 2020 and also for Sound & Vision at the CPH:DOX 2020. White Riot also received a Special Mention at the Berlin International Film Festival 2020 (Crystal Bear) and the Krakow Film Festival 2020 (DocFilmMusic Competition).
White Riot is showing at Cine Lumiere, Ritzy Picturehouse and Genesis Cinema with a limited number of ticket's being available on a 'first come first serve' basis, so get yours now!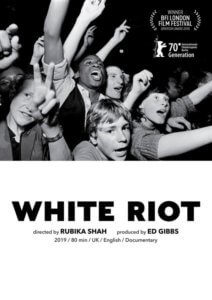 SUSANNE SALAVATI // CV // WEBSITE