Shot by Cinematographer Susanne Salavati, Then Barbara Met Alan aired last night on BBC Two. Directed by Bruce Goodison and Amit Sharma, Then Barbara Met Alan tells the story of Barbara Lisicki and Alan Holdsworth, two disabled cabaret artists who met in 1989 and became the driving force behind Direct Action Network – whose protests pushed disability rights into the spotlight. 
The Guardian; "This nimble biopic tells the tale of a comedian and a musician, both with disabilities, who were fed up of being patronised and marginalised. Their protest-packed tale is perfect for our times." 
Then Barbara Met Alan stars Ruth Madeley (The Rook, The Accident), Arthur Hughes (Help, The Innocents), Liz Carr (Les Misérables) and Faith Edwards (The Legend of Tarzan).  
Written by multiple Bafta winner Jack Thorne and actor-turned-writer Genevieve Barr, who have shared their own experiences of being disabled in a world that has not always catered for them. 
"Genevieve Barr: When I was 15, my work experience was in a school for the deaf. I'd never met another young deaf person before and rather than trying to just meet one, I met a hundred. It was striking, humbling, emotional and terrifying."  
"Jack Thorne: When I was 22 I went to a Graeae theatre open day. Because of my disability I'd had a rocky few years, six months bed bound, leaving and then going back to university, but when at university having to go to hospital twice a week – it wasn't a happy time. And most of all, I was struggling with pain. A pain I couldn't quite get my head around. But because my condition was invisible I didn't quite know how to deal with it." 
Read more about their stories HERE and the show HERE
Stream Then Barbara Met Alan now on BBC iPlayer!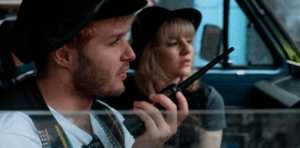 SUSANNE SALAVATI // CV // WEBSITE