Cinematographer Ryan Kernaghan shot feature Boys From County Hell which is now available in cinemas across the UK and Ireland!
Directed by Chris Baugh, Boys From County Hell is based on a crew of hardy road workers, led by a bickering Father and Son. They must survive when they accidentally awaken an ancient vampire.
Empire Magazine gave the Feature 4/5 stars and said; "Following a cold open involving two OAPs whose cosy TV tea turns into a gruesome bloodbath – domesticity and devilry will share a space to chilling and comedic effect throughout – we backtrack to two months earlier. Lifelong pals Eugene (Jack Rowan) and William (Fra Fee) are stuck in a rut of day drinking and spooking gullible tourists while dreaming of escaping their hometown of Six Mile Hill, a sleepy Irish village shot in atmospheric wide angles and shadows by DP Ryan Kernaghan. When Eugene's crotchety, stick-in-the-mud roadworker dad (Nigel O'Neill) agrees to help build a highway through their village, disturbing the cairn-guarded grave of 'real Dracula' Abhartach, tragedy — and a bull — tear Eugene and William apart. Bloodshed and banter follow as father, son, and a small band of reluctant road workers are forced to reckon with resident evil and their own inner struggles."
The feature stars Jack Rowan (Peaky Blinders, Born to Kill), Nigel O'Neill (Bad Day for the Cut, Game of Thrones, Vikings), Louisa Harland (Derry Girls, The Deceived) and John Lynch (The Secret Garden, Harlots, Tin Star).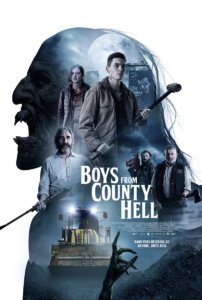 RYAN KERNAGHAN // CV // WEBSITE