Feature Rare Beasts was shot by Cinematographer Patrick Meller and features Hair and Make Up Design by BAFTA nominated, BAFTA Breakthrough and Screen Star of Tomorrow 2020 Bethany Swan.  
Rare Beasts was written, directed by and stars Billie Piper. The film hits cinemas tomorrow and there is a Q&A with writer/director Billie this Saturday at the BFI Southbank. 
Rare Beasts had its World Premiere at the Venice Film Festival in 2019 and is an anti rom-com about Mandy, a career-driven single mother who falls in love with the charming, traditionalist Pete, who is portrayed by Leo Bill (28 Days Later, The Girl with the Dragon Tattoo).  
Catch Rare Beasts at a cinema near you from tomorrow!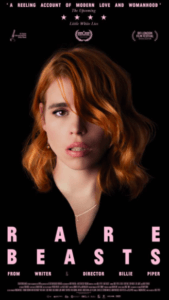 PATRICK MELLER / CV / WEBSITE
BETHANY SWAN / CV / WEBSITE