Floodlights is a BBC drama following the story of Andy Woodward, "whose Guardian interview led to the jailing of youth coach Barry Bennell". With Production Design by Damien Creagh, Floodlights stars Jonas Armstrong (Edge of Tomorrow), Gerard Kearns (Shameless), Morven Christie (The Bay) and Matthew Hawksley (Murder on the Orient Express).  
Directed by Nick Rowland, Floodlights focuses on former professional footballer player Andy Woodward, who along with 21 other young men suffered sexual abuse as a child while at Crew Alexandra F.C. 
"The number of his victims is widely believed to have run into three figures, the youngest of them eight years old. Bennell had served earlier sentences for similar crimes but this time was jailed for 34 years. This conviction was made possible by Woodward, who waived anonymity in Daniel Taylor's 2016 Guardian interview, detailing how he was raped by Bennell during his three years in Crewe's youth team. His testimony, as a former professional footballer for Sheffield United and Bury FC, encouraged other victims to come forward." 
The drama highlights the stigma around male sexual assault: "Real men do get raped. Silent suffering only keeps such myths alive. And that's the reason why this drama is so valuable: it breaks the silence and shame around male rape, and puts the blame where it belongs." 
Floodlights aired on BBC Two and is now available on BBC iPlayer. 
Read more about Floodlights HERE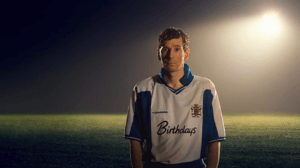 DAMIEN CREAGH // CV // WEBSITE